1、Process: Flour preparation-Blending-ConditioningExtruded-Sheeting-Crushing-Sifting-Drying-Cooling-Packing
 Production System
♦Full Automatic Raw Materials Preparation Dosing System:Microcomputer controls, accurate weight measurement.After the batching system is completed, if there are multiple hosts, the automatic powder feeding system can be selected.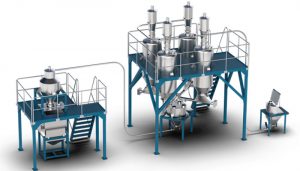 ♦Extrusion System:We have many types of hosts and high degree of automation. The extruder can realize one key start, real-time data storage, real-time monitoring, alarm and reminder functions of the host.Our double screw extruder designed by 3D software, analogue simulation and it is tested by computer automatically to ensure the requirements of design precision. Professional manufacturing and processing,this will ensure the accuracy and coordinalion among each component of the Extruder. Stable processing and low noise is the best proof.
♦Crushing System:Crushing is the process of breaking large materials into smaller particles or powders.It can  reduce particle size and increase specific surface area. The fine powder can improve the dispersibility and make the mixture uniform.The common pulverizers can be divided into three types: single pulverizer series, pulverizer series with vertical dedusting cabinet, pulverizer system series.
♦Drying System:The single-layer chain plate dryer has a forced hot air circulation system to increase the thermal process efficiency. Heat source can use a variety of heat medium, electricity, gas, fuel oil, steam, etc. Compared with multi-layer chain board, single-layer chain board has stronger penetration of hot air to materials. Water removal efficiency is higher. The control system adopts PLC module to control the temperature. Only PID setting and the control of gas and fuel oil two-stage fire make the temperature control more accurate.
The dryer includes:Distribution System,Hot Air Circulation System,Moisture Discharge System,Hot Air Cycle System,Drive Motor,Convey System.

♦Cooling System:Single layer chain plate oven can be equipped with cooling device.
♦ Packing System:Equipment features: suitable for products with low accuracy of packaging weight. High cost performance.
It is suitable for packing of bulk materials with high measuring accuracy and friability.
Automatic completion of feeding, metering, filling and bag making, printing date, inflation (exhaust), output process.
High metering accuracy, high efficiency, non fragile material.
2、Application:
(1)Dry Textured soya protein
  Pellets, Crumbs, Minced, Flakes, Chunks, Chips ,Schnitzel, Nuggets.
(2)High moisture wet protein  
  Soya,pea, Pea-sunflower
Product description: Use Soya pea, etc plant type protein as main materials, after extruded, finished product with good water absorption Fiber Extensibility . So far best substitution for animal meat, free cholesterol, high protein. Widely used at vegetarian client fast freezing food, sausage food.
3、Capacity
| | | | |
| --- | --- | --- | --- |
| Model | AHT62 | AHT75 | AHT90 |
| Output | 180~300kg/h | 300~400kg/h | 800~1000kg/h |